WHERE'S LIFE TAKING YOU NEXT?
Hiking in the Himalayas? Business in Beijing? Planning a family? New Job? Moving?
OUR BLOG
GETS YOU
GOING!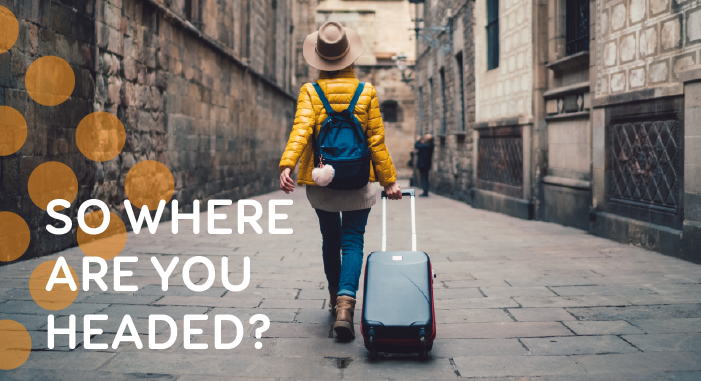 TMVC Website Gets Major Rebrand
If you haven't been on the TMVC website for a while you might have noticed a few changes.
Three months ago we decided to reimagine and reboot the TMVC brand online.
The goal was to create a more contemporary identity that better reflected who we are and what we do.
SWAG Design Factory on Vancouver Island was chosen to do the work and what you see and read all around you are the fruits of their labour.
We have replaced TMVC's well-worn black and green colour scheme and logos with healthy teal, warm tangerine and professional white, cool rounded fonts and lots of clever dots.
Former CBC journalist Ian Robert Jones added the website's signature slogans and tag lines: Where's Life Taking You Next? There's A VAX For That! Always Be Vaxxing and Explore Life With Confidence.
During our initial meetings, we also decided it was important to communicate to web visitors crucial facts that set TMVC apart from the competition:
We are BC-owned and operated, we are heavily invested in the local communities we serve, we are located throughout the province, we've been vaccinating people for a long time and we've been doing it safely.
It's also why you see the humblebrag "The TMVC Advantage" on various pages on the website.
Unlike many of our competitors, TMVC is a one-stop shop where you get everything you need from your consultation, to vaccines and prescription meds in a single visit by doctors and nurses who specialize in travel medicine.
We have simplified site navigation making it easier for you to contact us or book an appointment and have scattered helpful travel tips, digital resources and inspirational travel ideas, destinations and photos throughout the website.
There is also an interactive blog that acts both as an information hub and a place for us to help build the TMVC community.
In short, we've built the new website with you in mind.
There's more to see and do, it has better functionality and underscores the expertise, professionalism and leadership that have made TMVC the leader in our sector.
Finally, as you poke around remember that our singular goal is your health and wellness.
We are your secret health and safety weapon working in the background to protect you.
So whether you're travelling to an exotic destination or making sure your family or employees are safely vaxxed — yes there are new words to learn too — we're here to help you explore life with confidence.
Get in touch with us, we'd love to hear what you think about the new changes and keep an eye on this space.
Coming soon … an all new TMVC on social! 🙂